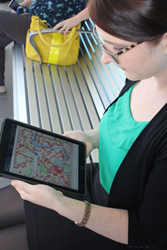 SAN DIEGO, Calif. (PRWEB) May 12, 2015
Cubic Transportation Systems, a business of Cubic Corporation (NYSE:CUB), says its new NextBus real-time passenger information system has undergone a major expansion in the south east corner of the Australian state of Queensland.
This follows the official launch of the new system May 7 by the Deputy Premier & Queensland Minister for Transport, Jackie Trad, enabling NextBus to officially go live on thousands of bus and ferry services across the TransLink public transport system in south east Queensland.
Now Queensland commuters can accurately track their bus and ferry services in real time through Passenger Information Displays and on their mobile devices including smartphones, tablets or computers, taking the guesswork out of riding public transport.
The rollout across the TransLink system follows last years trial on the Sunbus bus network on Queenslands Sunshine Coast.
Jim Perry, the chief operating officer of the Transit Australia Group (TAG), which owns Sunbus and is one of Australias largest privately owned transport operators said, Its clear that the rollout has been a success and that drivers and customers alike have embraced the system.
We look forward to working with TransLink and Cubic in the future to maximize the benefits that NextBus can bring to the design and operation of our networks and, ultimately, the customer experience.
Perry said TAG had always been an early adopter of progressive technologies, in particular those that provide significant benefit to the traveling customer.
When we were asked to be the lead operator in the NextBus rollout, I did not hesitate to throw my support behind it, he said. In addition to the obvious benefit to the people utilizing our services, NextBus has provided another level of insight and analysis to our operations. The real-time access to data, and the ability to see each and every vehicle on our networks at any given time, has allowed a closer and more efficient relationship to develop between management, operations control, and drivers, and ultimately, to enhance the customer experience.
Cubic Transportation Systems Australasian managing director Tom Walker said this first deployment of the NextBus system outside of North America is a major landmark for the company, expanding Cubics services and capacities in the region.
We are delighted that Queensland is playing a leading role in delivering on a key component of Cubics NextCity strategy the integration and application of payment, traveler information and operational analytics to regional transport networks around the globe.
Cubic replaced more than 2,500 driver console units with new devices on buses run by 19 transport operators. The new driver console units use GPS combined with mobile communications on each vehicle to track the exact location and movements of services, with arrival times updated every 30 seconds on the TransLink website.
Cubic designed, delivered and has managed TransLinks go card fare collection operations since the systems rollout was completed in 2008.
NextBus, a leader in real-time passenger information systems, is a subsidiary of Cubic Transportation Systems, Inc.
About Cubic Corporation
Cubic Corporation is the parent company of two major businesses, Cubic Transportation Systems (CTS) and Cubic Global Defense (CGD). CTS is a leading integrator of payment and information technology and services for intelligent travel solutions around the world. CGD is a trusted provider of realistic training systems, C4ISR solutions, and highly specialized support services for the U.S. and allied nations. For more information about Cubic, please visit the company's web site at http://www.cubic.com.
Media contacts:
John MacGregor

MPR Australia

PH: 61-2-9969-3600

Cell: 61-414-445-447

jmac(at)macpr(dot)com(dot)au
Nina Jimenez Taylor

Corporate Communications

Cubic Corporation

PH: +1-858-505-2003

Nina.jimeneztaylor(at)cubic(dot)com